Friends,
A friend from college, Roseann Sdoia, a sorority sister of my college girlfriend, is a victim of Monday's insanity and now faces life as an above-knee amputee. One of her sorority sisters, Christine, set up this
site
to help with medical expenses. Please contribute what you can.
Christine put out this photo today along with these words:
"I have attached a photo from Monday. You can see Roseann to the left of the mailbox behind the marathon runner's shoulder. She has blonde hair with sunglasses on and a gray sweatshirt, turned speaking to a friend. You can see the white hat suspect behind her to the left looking away from Ro. You can also see the bag with the bomb on the ground next to the red Nike sneakers. The 8 year old boy that died is in front standing on the bottom rail of the fence. Roseann's friends are on the right of the mailbox. The mailbox saved them from severe injuries but they have all lost hearing due to blown out eardrums."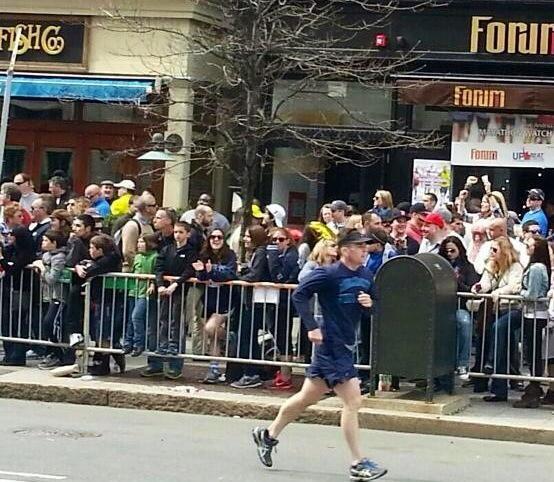 Please help
"Paul, I am sending you a writeup of my experience from participating in the 2011 Escape From Alcatraz Triathlon.  I had long dreamed of doing it one day, but was galvanized into action after seeing your incredibly motivating account of your life's travails and adventures when you spoke here in Boulder.  It made me realize that dreams unfulfilled are just illusions, and I really wanted to live more fully than that.  After speaking with you and hearing that you too had raced Alcatraz, I knew I had to see if I could do it myself.  The spark of your motivation got me into training, and your willingness to help a novice hack get in the required miles and experience to attempt this epic adventure are greatly appreciated; I don't think I would have lived this dream were it not for your example and encouragement.  So it is from the bottom of my heart that I thank you for being you, and the model you are – you helped me achieve one of my favorite accomplishments, and occasionally I am reminded of what a thrill and  milestone Alcatraz has been in my life.  That our friendship has continued makes me even happier for the opportunity to know you and grow myself.  I sincerely appreciate all of the help and support, and hope you enjoy the read…:
Notes on My Great Escape – By Seth Heine:
One death defying feat served cold, with two doses of brutally hilly reality to heat you back up and make you appreciate the simple triumph of survival.
Epic.
Proud of the accomplishment, and thrilled to be alive.
It's something I have wanted to try for many years now.
I had promised myself it wouldn't come to this, it seems like a thought process reserved for those about to commit suicide.
But there I was, about to jump off the side of a perfectly good boat so I can try and swim from Alcatraz Island to San Francisco.
The whole idea behind Alcatraz as a prison island is that you'll die trying; succumbing to either the cold waters (52 degrees), or the tides will carry you out to sea – or both.
Sharks can also be an issue, but not really at this time of year, due to the mountain snow run off dumping into SF Bay at 500 million gallons a day (this water is too "fresh", and too silty).
It's a daunting distance too, 1.5 miles through a ripping current, so if you don't make it within an hour, they actually have to come and rescue you and get you to shore. The fear of being gaffed into a boat have scared me for months.  I've paid my dues this Spring in the pool, although open water swimming is mighty different than laps in a pool; there's an enormous difference between swimming 13 strokes, hitting a wall, grabbing a breath, then heading back.
This is more like 1500 strokes, and no wall to take a breather.
By biggest fear is the water temperature, 52 degree water can kill you in a little more than an hour
- in fact someone died just a few weeks ago after he overturned his boat and couldn't get out of the water.
He was rescued, but died anyways of hypothermia leading to a heart attack.
They say it's like getting shocked, and you lose your breath.
Some people panic etc.
Not to overstate the danger, thousands of people have done this very Escape from Alcatraz for years now, and no one died (note the utility of the rescuers, 200 people were pulled out of the Bay in last year's event). I had committed to myself not to find out what the experience was like for the first time on race day.
I didn't.
I tried though; I asked my wife to come out to the Boulder reservoir and watch me try out the wetsuit, and see how well I acclimated to the water.
"Why do you need me again?" she asked?
"In case I panic, have a heart attack or something like that…" I said, not wanting to be overly dramatic, but definitely not wanting to do this solo.
"Well if you're in a wetsuit, and that happens to you, what am I supposed to do?
I'm not coming in after you." She said.
I don't know how you reply to that, and the swim at the Res never worked out.
So here I am, cursing myself for having put myself into this situation.
"GO!" Screams the helpful attendant who is making sure 2,000 Escapees get off the boat in an amazing 6 minutes.
He's here for my safety, and helping me achieve a life-long dream, you see.
Ever since I saw an Escape from Alcatraz Tri shirt, and realized there really is such a test (not to be confused with the saw, dig, run joke shirts you see sometimes), I have wondered if I could do it.
Because your not supposed to be able to – hence the attraction…
At any rate, I jumped in, carefully holding on my goggles so they don't wash off my head, and leave me blinded, which would really be a nightmare.
Despite my effort, upon hitting the water the left lens filled with very cold, very salty, very stinging water.
Damn.
I kick my head back so I can drain the goggle, only have to another racer jump in beside me, and send a wave over my head, and down my throat, into my lungs.
Ugh, I just inhaled a pint of seawater.
This isn't how I had wanted this to start, in fact this is the very scenario that kept me up late at night, and motivated me to slog to the pool every week, come rain, snow, or even nice weather and many other things I'd enjoy more.
Once you get through the initial shock of the water temperature, you realize the current has already been pulling you out the Bay towards China.
It really is moving you fast; it was described as a river moving at 7 mph in the required pre-race briefing.
The only thing to do at this point is swim for your life.
So that's what I did.
I did a good job "sighting" the landmarks on the coast they teach you to swim towards, as you hopelessly drift past them; the idea being swim like crazy straight across the Bay while the current tries to pull you out to sea.
If you can out swim the current, you get to keep playing the game, and ride your bike and run through a magnificent series of views throughout the town.
I'll say that at about 25 minutes into it (I don't wear a watch, so I thought I was much later / slower than I really was), I looked over and was stunned at how close Alcatraz still was, I hadn't gotten very far at all it seemed.
Panic.
Then swim harder.
I went though this virtuous cycle several times; panic, swim like my life depended on it, rinse, repeat.
Try and try again.
As I kept stroking away, grinding out 25 stroke bursts, something finally took hold, and apparently I was making progress.
Another 15 minutes and I was clawing my way out of the Bay like a barely evolved chunk of primordial ooze.
Between the waves, my fatigue, and numb hands clawing at the sand to get me out and up, I felt like I was on a food poisoning trip.
I had certainly drank enough seawater to fill a glass or two.
In fact, later on in the race, I saw a guy in the bike segment vomiting buckets of seawater; when I asked if he was OK, he replied "almost".
I actually had to stop later in the bike ride and hit the boy's room because I had drank so much seawater!
Just as I had promised myself that I would never jump off the boat without knowing what the water conditions would be like, I had also promised myself that once I pierced the psychological barrier of cheating death and made it back on dry land, I would make it a point to enjoy the rest of the race.
Sure, I expected to suffer a bit, but slim odds that I could die at this point.
So off I went, giddy and rejuvenated, on to the transition to get some dry clothes on and get on my bike.
I just love to cycle, been that way since I was a boy, in fact, it brings me right back to that simple childhood thrill every time.
Lucky me, I ride with some tough guys in Boulder and the surrounding foothills, and so I knew this would be fun though challenging.  Miraculously, the grey clouds parted and it got sunny, breezy, and became a lovely day for a spin. The course is sort of binary, you are either going up something steep, or barreling down it; with the exception of the ramp in / up and the ride down / out of the Presidio and Golden Gate Park,
i
ts either huff and puff your way up some gnarly, long climbs, or zip down them as fast as you dare.
I don't think anyone passed me on the ride, and I reeled in a LOT of other riders on this segment.
It's intoxicating, that thrill of eating them alive like that, I love it.
But you also have to pace yourself.
Go too fast and hard and you might gain a few minutes, and then find yourself cramped and broken on the run, so I tried to be very judicious in my allocation of effort and physical resources.
Suffice to say the ride was a blast; SF is beautiful, and this course really hits some of the highlights and best views the city has to offer.
As I was leaving the transition corral, a quick reality check: some badass from Colorado Springs named Andy Potts just finished the whole race. He's off to kiss pretty girls, pick up a handsome check, and get a massage. Must be nice…
Once through the transition again to start the run, I paced myself, knowing that 8 miles is a long run at this point.

Sure, I can do a marathon, did several, but the ride makes your legs feel like bricks on the run, and really takes some getting used to.

I don't know if you ever get a taste for that, I doubt I will…

The run follows Crissey Field straight up into the steep trails of the Presidio.

It is beautiful, and really rustic, you are in a coastal forest at this point, and the views of the cliffs and rocks, Golden Gate Bridge are remarkable.

You can't help but look for Alcatraz Island to take in what you just did.
The run is really engaging - I generally don't like trail running because I blew out an ankle playing basketball in college (drunk antics can last a long time), and am always nervous about a simple root sending me down for the count.

So you have to watch every single stride, carefully.

There's also oncoming traffic from other racers on this narrow single track.

Again, a series of marvelous views along the coast as you go up and down the trails.

At mile 4 the race goes down a series of steps, then across about a mile of deep, loose sand on the beach.

Tempting as it is to look at the amazing rocks jutting from the sea and the phenomenal perspectives, if you don't watch your step here you're going down for sure.
Ever run a half-mile in the sand?

Not along the edge of the water, packed sand, I mean loose, deep, gluey sand.

Its like molasses on your stride, it kills you.

Then you loop back, tracing the water line if you dare, narrowly missing the waves as they keep chasing you up into the loose stuff again.

It's a very long mile – draining…

Then you come to the famous Sand Ladder, a 400-foot climb back up the cliffs through loose sand and some logs to hold it together.

Frankly, I never imagined running this bit, it seemed risky.

Fact was that wasn't even an option, I was one gear from crawl mode, regressing back to my recent primordial ooze mode.

I knew this was hard, but really it's the loose sand beach preamble that makes it so hard.
So you climb your way all the way back to the top of the cliffs, and try to keep the wheels on for the last half of the run.

It's the same technical single-track most of the way, and it is inspiring to see some of the people who come out to brave this test.

You wouldn't expect to see some of these folks out on a race course by looking at them, and the reality is that not only are they out testing their mettle, they are having fun testing their mettle.

As expected, the last mile or two are hard, even though flat, you're just gassed at that point.

And then the music comes from the distance, the cheers of the crowds encourage you on, and somehow it almost feels too short, it was so fun to experience, and now there's nothing left to do but think about it.

Friends have said they were glad I got this out of my system.

I pointed out now that I know I can do it, I see room for improvement
Thanks for helping me live the dream, sincrerely,
Escape from Alcatraz "Escapee"